Written by Chris Dekker, former co-owner at Tools in Motion.
If you spend any time on the Internet at all, you've surely seen ads like these by now. Besides the clickbait mechanic-bashing, what else is wrong with this advertisement? Let's dig in.
One of the primary aims of our blog and social media presence is to give our customers a behind-the-scenes look at what we do every day, and to educate people as well. A better-informed customer will be able to take better care of their vehicle, after all. If we had to pick the one aspect of our job that is the least understood by customers, it would be the process of diagnosing a car problem. That's why we re-visit this topic as much as we do.
There's still a large group of people out there who honestly believe that we just hook up a computer that tells us what's wrong with their vehicle – like the device in the photo above claims to do. This device is a generic OBD2 code reader that's meant to work with your phone. You can actually purchase something similar on Amazon for around $10, or a standalone tool at many local stores for between $20 and $250.
What is a code reader? (The simple explanation.)
In 1996, every vehicle on the road adopted a self-diagnostic system called On-Board Diagnostics 2 (or OBD2 for short). It was around this time period that on-board computers – or "modules" – were becoming much more common, and more plentiful. 1980s vehicles usually just had one module that controlled the engine and transmission, while 90s cars had 5-10 modules; and today's vehicles have 20-30. Most of these modules contain "self-diagnostic" software that is designed to detect bugs in the vehicle. When a fault is detected, a warning light is usually illuminated, and a "trouble code" is stored. For example, if an Engine Control Module detects a misfire on cylinder #2 of your engine, it would set a trouble code P0302 – "Cylinder #2 misfire". OBD2 codes are always 5 digits in length, with the first letter dictating which system is affected: "P" for powertrain, "C" for chassis, "B" for body, and so on.
An OBD2 code reader is a very basic version of the full-feature scan tools that professionals use, and allows you to retrieve most (but not all) of the "P" trouble codes stored in just your engine control module.
So, how does a code reader tell you what's wrong with your car?
It doesn't. A trouble code is just a starting point in the diagnosis: a direction, if you will. That P0302 trouble code mentioned above doesn't tell you if your misfire is being caused by a bad spark plug; ignition coil; fuel injector; vacuum leak; sticking valve; compression problem; or a dozen other possible causes. That's where the rest of the diagnosis comes in. We've discussed the actual diagnostic process lots in these previous articles, so we'll skip over that for now:
The "magic computer"? We still don't have one.
Explaining the diagnostic process.
Real-world diagnostic examples:
To give you some examples of how little help a code reader usually is in properly diagnosing a problem, we want to show you three examples of problem vehicles that came through our shop recently. We'll list the symptoms, with any trouble codes that were stored. Look at this information first, and make a mental note of which components you'd lean towards replacing based on that information alone – then read on to learn what the results of a full, proper diagnosis were. We're not cherry-picking these examples, either; these were literally the last three diagnostic jobs to come through our shop.
1)  2010 Mercedes GLK 350 with a rough-running engine.
This Mercedes came to us with a very rough-idling engine, and a "check engine" light on. Diagnostic accuracy is always important on European vehicles, because their parts aren't cheap and one wrong guess would cost a lot more than a proper diagnosis. Our initial scan revealed two trouble codes in the Engine Control Module (ECM):
P0300 – Random cylinder misfire detected.
P2005 – Intake manifold runner tuning valve position error.
It's important to note that this is where diagnosis with the code reader stops. Do you feel comfortable throwing any parts at this car yet? We didn't either, so let's continue…
To an experienced technician, this engine had what felt like a single-cylinder misfire. But which cylinder was misfiring? As we often see, the ECM didn't know; and stored the rather unhelpful "random cylinder misfire" trouble code instead. Performing a cylinder contribution test with our Mercedes scan tool allowed us to determine that cylinder #2 was our culprit. We did a quick check of mechanical compression in that cylinder – which measured good – then proceeded to check for fuel and spark supply to cylinder #2. We found that the cylinder #2 ignition coil was producing a weak spark, and had to be replaced.
The new coil solved our rough idle, but diagnosis of the variable length intake manifold (a system designed to provide a good combination of low-end torque and high-end power) took a little more work. When none of the obvious causes for the P2005 code were present, we dug deeper. Using a special camera called a borescope, we went inside the intake manifold and found some physical damage that meant the manifold will need to be replaced.
Total cost for this accurate diagnosis: $150.
2) 2008 Hummer H3 with Check Engine light, ABS light, and Traction/Stability control lights on; four wheel drive will not engage; rear locking differential will not engage.
Because of all the different issues on this truck, starting diagnosis involved checking for trouble codes in all of the on-board computers; not just the engine computer that a generic code reader can access.
The Sensing and Diagnostic Module (which controls ABS, traction and stability control) and the Final Drive Control Module (which controls the four wheel drive) had both stored trouble code C0045 – "Left rear wheel speed sensor signal fault".
The only code stored in the engine computer was P0300 – "Random cylinder misfire detected", like our Mercedes above.
Since the ABS, stability control, four wheel drive, etc are all dependent on knowing the wheel speeds, our C0045 trouble code explained all of the customer's issues except the Check Engine light.
Does our Hummer need a new wheel speed sensor? In this case, that would have been a bad guess. The sensor tested fine, (and here's where it's important to point out that every part on a vehicle can be tested before it's replaced) so we investigated further. The issue turned out to be a chafing wiring harness underneath the vehicle, where several wires had rubbed through on the frame. We repaired the wiring and moved on to the Check Engine light.
The engine in this Hummer ran fine until we got it hot, when it started misfiring. Whipping out our GM Tech 2 scan tool for a power balance test, we determined the offending cylinders were #4 and #5. As we've already discussed, a misfire can be caused by dozens of different problems, so we ran a battery of tests, using many different tools and pieces of test equipment. Having ruled out a lot of the more common causes, we installed an in-cylinder pressure transducer (super-sensitive electric pressure sensor) into cylinder #5 and wired the transducer to our oscilloscope. Using this tool, we were able to detect the cylinder #5 intake valves were sticking. A little more camera time with the borescope, and we determined this was due to carbon build-up inside the cylinder heads, which would need to be cleaned.
Total cost for this diagnosis (including the wiring repair): $300.
3) 2012 Toyota Tundra with Check Engine light on.
This diagnosis was pretty straightforward. Scanning the Engine Control Module only resulted in one stored trouble code:
P0441 – "Evaporative emission system incorrect purge flow."
This trouble code indicates that when the ECM applies vacuum to the fuel tank by commanding open the purge valve, it is not seeing the expected drop in fuel tank pressure, as reported by the fuel tank pressure sensor. Let's stop for a minute again. This is as far as the code reader takes us. Do you feel comfortable replacing a part yet? A faulty purge valve would be a good guess, but that's a $200 part. What's a proper diagnosis going to cost?
Possible causes for this trouble code include a faulty purge valve; a failing fuel tank pressure sensor; a leak in the system somewhere; even a loose gas cap! After checking the gas cap – you ALWAYS check that first!
– we moved on to testing the purge valve using a Toyota scan tool that can command the valve open/closed, and a handheld vacuum pump. The valve functioned fine and all of its plumbing looked good, so we moved on to looking for leaks in the system. The quickest way to do this was to use a smoke machine, a tester than pressurizes the system and fills it with a thick smoke. Once you find the smoke escaping somewhere, you've found your leak.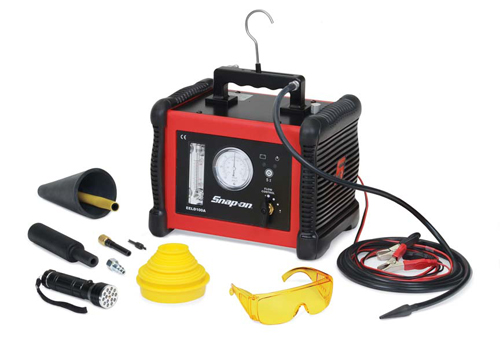 We found the smoke escaping from the canister vent valve underneath the vehicle, which we had used the scan tool to command closed for the test. Removing and bench testing the solenoid revealed that while it was receiving a good power and ground input from the ECM, the solenoid itself was not closing properly – and was the source of our trouble code.
Total cost for this diagnosis: $150.
Hopefully these examples help illustrate just how valuable a good diagnosis is, and how much work (and technician skill) goes into one. Do you have a vehicle problem that needs trouble-shooting? Let us know!